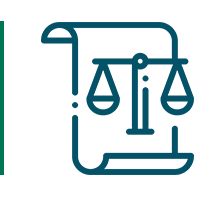 Civil and economic matters
We have many years of experience in conducting civil and economic court cases.
Since we take the position that it is worthwhile to use other, cheaper and faster conflict resolution methods before starting a court dispute, we engage in mediation and negotiations, which often end up with a satisfactory solution for our clients.
If it is not possible to find a common, consistent position, we prepare our clients for the trial, which we then conduct on their behalf, on the one hand, in a way that involves them as little as possible – on the other hand, providing full information on the status of the case and the possibilities of action.
After the dispute is over, we represent clients in enforcement proceedings. We cooperate with effective and dynamic bailiffs.
Administrative matters
We represent our clients in administrative proceedings and we appear in courts in cases against administrative bodies. However, we manage to resolve many such disputes to the satisfaction of the client still at the stage of proceedings before administrative bodies.
This is of particular importance in the proceedings for obtaining development conditions, building permits, connection conditions or various types of licenses and permits.
Responsibility of company boards. Criminal and criminal-fiscal cases
Management and executive personnel is often exposed to the risk of accusations of mismanagement of companies' affairs, as well as claims for damages on a subsidiary liability basis.
We represent our clients both in civil courts and in criminal law proceedings and – having excellent preparation in tax cases – in criminal fiscal law.